Ivana Quezada
is a California-based artist currently doing a BFA at Azusa Pacific University, CA. Her abstract charcoal works are mesmerisingly cosmic, as the various forms interlace creating a feeling of an unseen and magical part of the universe.
"My current exploration is to create an impression and extension of real space in ambiguous settings that contain forms reminiscent of recognizable things giving the viewer the opportunity to interpret freely the meaning of each work.
Contemporary painter CT Nelson developed the term Non-Objective Realism which he explains as "the feeling of something real, yet far away from reality." This idea of creating work that is not based on anything real and specific but still appearing as something that could exist in this world is my primary objective for my work.
The primary influence of my work is instituted by the idea that through ordinary shapes, colors, and lines one can establish a sense of transcendence, that is clear of any objective subjects.

Robert Motherwell expressed this concept through his work by objectifying his thoughts and feelings in concretely and creating a visual representation through abstract forms. I want this idea of abstraction and purity to convey a sense of emotion equal to that caused by encountering representational work. By creating unrecognizable textural abstract forms that imitate reality to an extent, there is a distance from the viewer through the ambiguity of the subject, but still a familiar element that allows for a vague conception.
I focus on creating an atmosphere rather than a narrative; without knowing exactly what is present, there is still an exploration and a discovery into each work that can also allow for a place of contemplation. I aim to create new visuals that contain the ephemerality of nebulous forms but also stimulate new reactions and feelings through the distinct textures and active motion of each scene." - Ivana Quezada
©
All images courtesy of Ivana Quezada
Powered by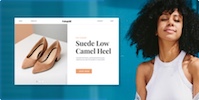 Create your own unique website with customizable templates.